Recently I announced that I had sold a Sword & Sorcery short story called
"Stout"
to
Swords and Sorcery Magazine
for their February 2015 issue. Here is the link to the piece:
Read "Stout" here!
In reflection of this story's publication, I wanted to take some time this week and talk a little bit about it. I wrote Stout because I wanted to do a few different things:
1. I wanted to give Jishnu another story.
2. I wanted to get away from the grimdark aspects of "Paper Demons," which appeared in
Thunder on the Battlefield
. The goal was to go in the opposite direction with it, playing with a sense of humor that was very simple while still maintaining the "heightened" sense I enjoy about Sword & Sorcery.
3. I wanted to write about beer.
I've spoke previously
about why "God's Proof That He Loves Us" is such an important beverage in my life. I don't drink a lot anymore, but I still enjoy beer for its aesthetic. Like spirits, wine, and mead, it is one of the few tethers we have to the idea of alchemy in the real world, where someone can take something given by the earth and transform it into "gold." Beer is a positive thing when used correctly, both to soothe the soul and feed the mind. Civilizations rose and prospered because of their ability to make beer, and in many ways beer in itself tells the story of the place where it created.
Brewing itself is a people-first activity, requiring thought, cooperation, business, hard work, and most importantly, love. People make and drink beer because they love beer. In every possible way brewers are just like writers--they are there for the craft and the wonders it produces. And beer is "hereditary", in a sense, as it always comes from another brew before it. In many ways the main character of the story, Stout, came from something from my past.
Stout the Sirtya, the brewer and "hero of the story" (I made Jishnu the "sidekick", in a way), was inspired by character named Pikel Bouldershoulder, a dwarven druid who was created by my favorite author
R.A. Salvatore
.
Here's Pikel: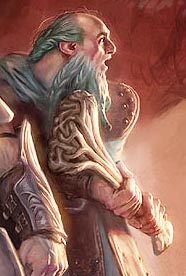 I took a lot from Pikel to make Stout, especially when it comes to the club and his speech patterns. I loved Pikel growing up because it was the first time I could read about a character with speech-and-language problems, a huge hurdle that I had to deal with growing up. Salvatore never diminished Pikel for it, however, leaving him very intelligent, wise, and so powerful that he is a powerful druid, something most dwarves never become. He was different, and he was kind, and sweet, and more importantly, he was able to do things on his own. Just like I wanted to be a bit like Pikel, I wanted Stout to be a bit like him as well. Stout's sweetness, dedication to his friends, and willingness to stand up against enemies bigger than him made the character special for me, because I really believe that even the most common among us can be a hero.
I hope if you take the time to read Stout you will love him like I do. I think we need more "dwarves", "hobbits", and "little folk" in our stories because they remind of our innocence. They let us know that we can still be strong, brave, and kind, even when we live in a world that doesn't seem to value those things anymore.
But more importantly, I hope you enjoy this story with a good beer. A sweet stout, if you can.
Thanks for stopping by. If you like what you read at this blog, please share it. It helps me know that I'm doing a good job with providing meaningful content. This is a blog you, by me.
See you soon!